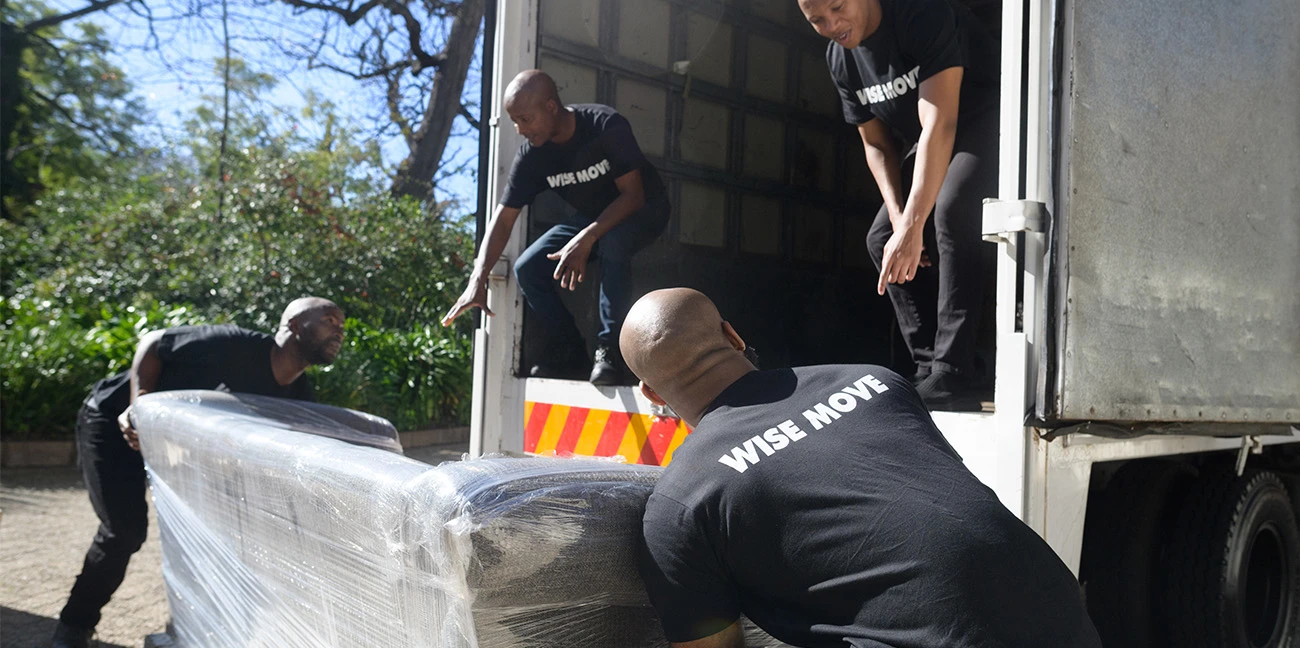 What are people moving
For our movers, no delivery is too big or too small. No matter what you need to transport, our team will get it there door-to-door at an affordable price.
Seamless moving experience
Trust our teams of professional movers in Port Elizabeth to handle your belongings with care and diligence. We treat your possessions as if they were our own, ensuring that they are well-protected throughout the moving process.
Moving handled with care
Our Port Elizabeth movers will take care of your possessions as if they were our own and handle your goods with the utmost care.
Moving handled with care
When it comes to moving your home or your items in Port Elizabeth, you'll want to know that your furniture and possessions are in the safest of hands, handled only by the professionals.
Our movers and packers in Port Elizabeth are vetted, trained and proven in removals of all shapes and sizes, working with you to understand your unique needs and expectations. They know how to secure and manage each item, from loading to unloading. It's all part of the Wise Move experience.
More importantly, they can adapt to changing situations, putting the security and safety of your possessions first, no matter what challenges appear along the way. Your satisfaction is our responsibility, and we always deliver.
Booking with Wise Move provides a complete service. Our moving companies are available every step of the way to assist.
If you need packaging materials, we'll supply them in good time ahead of the move to get a jump on the moving process. If you need guidance or advice on how best to prepare and what to expect, we're always just a phone call or email away to help out.
When it comes to packing, we'd always recommend limiting box weight to 20kg – this ensures we can stack them on top of each other without anything getting crushed. If you want to place things in a larger box, you can do so, but be sure to label it as heavy so that we know where to place it appropriately in the truck.
Similarly, sticking a big and highly visible FRAGILE sticker on any boxes that contain glass, ceramics or other breakables will ensure we know to handle those boxes with extreme care at all times.
Please also be aware that there are some things we are not able or legally allowed to move. These can include things like explosives, illegal drugs, firearms, dangerous chemicals, jewellery, frozen goods and cash. To ensure a smooth moving experience, it's always best to ask us if you have any concerns or doubts about your cargo ahead of time so that we can offer solutions.
On the day itself, your specialists will handle all of the big stuff – the loading of large furniture and heavy items. They'll place these in trucks along with smaller items in boxes to ensure the integrity and safety of everything that goes in; careful stacking ensures that nothing gets broken or smashed. Each mover has the right skills and knowledge to stack and bind furniture and items to keep them safe while on the move.
Once they arrive, your movers will help with unloading, working to your directions on where to place boxes, furniture and installations. When everything is unloaded, if you have any queries or concerns, they'll will be more than happy to help out wherever they can.
It's that easy! For trusted removals, always go with Wise Move.
Fully equipped
Every our moving team is set up with the right tools and equipment to make your moving process quick, efficient and safe.
Fully equipped
Successful removals in Port Elizabeth are a combination of expertise and equipment, working together to get your stuff where it needs to go. Professional movers on Wise Move have the expertise covered, and when it comes to the equipment, each team is equipped with the best professional-grade tools to get the job done.
With the right equipment at our disposal, awkward and heavy furniture that other teams might not be able to handle become easy to move. From stairwells to multi-storied buildings, we can lift, manoeuvre and manage your items until they're exactly where you want them.
To ensure you can pack in as much of your stuff as necessary, your movers will have access to trusted, heavy-duty vehicles for both long and short-haul journeys. Each one is equipped with harnesses and clips to fasten and secure, ensuring the safety of your possession as they make their way across Port Elizabeth.
Once your possessions make it to their destination, your movers will take all the necessary precautions to protect your home during the move. That includes securing floors, bannisters and carpets to keep them safe from rips, tears and other damage.
When it comes to moving furniture to second and third floors, Wise Move teams use a hoist hire to effortlessly lift your possessions either outside or inside the building. All of this will be confirmed and communicated with you ahead of the move for your peace-of-mind.
If you have any concerns or special requirements for your move in Port Elizabeth, just let us know ahead of time and we can plan accordingly to give you the smoothest and most straightforward moving experience possible.
7 days / week
We've got teams in Port Elizabeth available at any day of the week, including public holidays and overnight transportation.
7 days / week
Finding a mover in Port Elizabeth that works to your schedule can be stressful. Maybe you need an item picked up on a particular day of the week. Or perhaps you need to move in Port Elizabeth in a hurry and only have one day that works for your schedule. Whatever your problem is, we can work to solve it.
We work with a range of movers in Port Elizabeth that are available any day of the week, including weekends and public holidays.
With Wise Move, you don't have to ring around finding a mover that will work to your requirements. With just one message we save the need for hours of research or countless phone calls. Instead, you'll get quotes from movers who are available on the days you've requested.
Customisable service
You decide how much you want our teams to do, and how much you can handle yourself, to match your budget.
Customisable service
Our movers in Port Elizabeth can manage the whole process from top to bottom – packing, loading, transporting, unloading and unpacking all your belongings. We'll take care of everything so you can focus on what's important: enjoying your new home or item.
While our movers can help you with things like disconnecting washers, we advise that appliances must be prepared before moving day. Fridges and freezers must be unplugged, defrosted and cleaned before they are loaded into a van or truck. If there is a problem and you are unable or don't know how to prepare an item for your move, please let our movers know. On the day of the packing, our teams can arrive with the necessary tools and do it for you before the arranged moving day.
We recommend you get an electrician or plumber for the more serious tasks like mains disconnection/connections.
If you need a clearance and declutter service in Port Elizabeth to clear rooms, garages and attics, we'll make these arrangements for you and integrate the service into your move.
Deliveries for single items
For our pros, no item is too large, too heavy or too small to be delivered. Our team can deliver it at a low cost, no matter what it is.
Single item delivery
We know how frustrating moving one item can be. Some movers in Port Elizabeth can't move small items in a hurry, while for others, it's just not cost-effective. Still, sometimes you need help transporting a large wardrobe, bed, an antique, piano or a very bulky sofa.
For our professionals in Port Elizabeth, no job is too small or too large. No matter what you need to be delivered, our team will get it there Door-to-Door at an affordable price.
Our movers will help you with the packing, load your item into the vehicle and transport it from anywhere to anywhere in South Africa.
Purchased a heavy or large item on Gumtree, which is 'Pickup Only'? We have a tailored service designed to help meet the needs of online shoppers. We offer an extensive, friendly courier service across South Africa. We will deliver items to your doorstep the same day or the next day, as requested.
100% customer satisfaction
We are proud to be one of the most trusted mover companies in South Africa, with over 1,947 reviews and 9.2-rating.
100% customer satisfaction
We are one of the most recommended moving companies in South Africa. Our customers are the driving force behind everything we do, and we constantly strive to improve our service based on the feedback we receive.
If you're looking for a trusted mover, you've come to the right place. Our skilled professionals from all over South Africa are consistently rated highly by our customers.
With over 1,947 reviews on our website and a 9.2-rating you can ensure a quality, trusted service.
Over 85% of our service clients have referred us to their families and friends. We are proud to have a stellar reputation in the community and are grateful for every referral we receive.
Full packing service
Our packers are adept in all types of packing, from the smallest of ornaments to the largest of items.
Full packing service
When you're moving house, packing sensibly is an absolute must. However carefully removal teams transport items, packing is always necessary to prevent any breakages or damage.
At Wise Move, we've brought together the finest packers South Africa has to offer – and they're all available to professionally package anything from antiques to stuffed toys, instruments to ceramics. Our experts are efficient, reliable and always take the greatest of care; these are packers you can trust.
Generally, when we pack your items, we'll choose one of two methods: fragile or blanket packing. Fragile wrapping sees us wrap precious and fragile items with added bubble wrap, to be placed in specialised boxes. Blanket packing sees us use professional-grade wrapping blankets for larger items, such as furniture, which can't fit in protective boxes.
With both of these methods, we'll take the utmost care, drawing on our experience and expertise to secure everything during the move.
Across South Africa
We've got vetted movers in Port Elizabeth and across the country, ready to help get you on the move.
Available across South Africa
From the smallest rural community to the biggest city, our platform has all the right people to deliver your furniture and possessions, wherever you are in South Africa.
After you post your delivery request, we'll match you up with the moving teams in Port Elizabeth who can reach both you and your destination. Once you've compared your options and chosen the movers team for you, it's just a matter of letting them know where you are and where you need to go (and when).
Better yet, we can work closely with your family, friends or employees under remote instruction from you as the client to get everything packed and delivered. You don't even have to be at the point of collection or final destination; you can trust our movers to get the job done to your highest levels of satisfaction.
That's a Wise Move guarantee.
No hidden fees
Our prices are final and fully inclusive of fuel and VAT, and any other charges. What you see is what you pay.
No hidden fees
When you need to move, we understand how frustrating it can be to expect to pay one price, only for extra costs to add up as the process drags on.
At Wise Move, we've done away with all that thanks to our strict 'no hidden fees' policy. Whatever quote we give you for your moving job will be final, no ifs or buts. We're proud to offer value-driven moving for you, your family and your business that never takes you for granted.
Our charges are fully inclusive of petrol and any other charges the removal process might incur – including VAT, the goods and service tax levied by the government.
If you have any questions or queries about the quote you've been given, you can always get in touch and our friendly support team will be happy to help.
Our services for every (wise)move
Wherever You Are 🇿🇦
Moving services across South Africa All Covered. No Hassle.
Summerstrand
Mill Park
Walmer
Humewood
Port Elizabeth Central
Bluewater Bay
Greenacres
Newton Park
Beachview
Sardinia Bay
Blue Horizon Bay
Seaview
Kini Bay
Theescombe
Thornhill
Chelsea
Cotswold
Schoenmakerskop